---
The Neon Lights Above The Old Merritt Parkway Motor Inn Shine Bright Once Again
The iconic Hotel Hi­Ho has reopened, following a thorough rehab and restoration. The 40­ room hotel was purchased in 2015 by Ed Gormbley, of Workforce Partners—a real estate related investment firm.
"Everybody knows the Hi-Ho," said Gormbley, a Bridgeport CT native. "My memory of driving up the Parkway as a kid and seeing the red neon sign is emblazoned in my mind. When the property came up for sale, I knew it was a no brainer. It's been awesome!"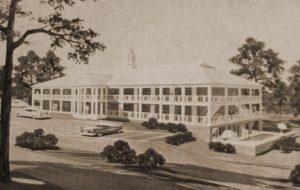 The Hi-Ho was originally built in 1960, roughly a decade after the Stratford portion of the Merritt Parkway was completed. The proximity of the hotel to the highway, its accessibility to Fairfield County and the local universities (Sacred Heart University, Fairfield University, and the University of Bridgeport), along with the undeniable charm of sitting atop Barcelona's Fairfield restaurant, make for a unique/boutique hospitality option, in an area short on places to stay.
---